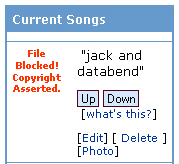 i probably should've done this years ago, but better late than never... AWIA is now
on myspace
.
the
AWIA myspace page
features two brand-new mp3s from our upcoming release,
parts is parts
: a noisy ditty titled "you want really annoying crap" and a more subdued cutup called "a man has needs". stop on by and give 'em a listen... and while you're there, add us as your friend.
i had attempted to upload a mellancamp cutup titled "jack and databend", only to find that myspace had rejected the song due to copyright concerns! apparently whatever software myspace uses to prevent people from uploading copyrighted music scanned the track and was able to recognize the source material of the samples! so i guess if you want to hear "jack and databend", you'll just have to wait a couple months until
parts is parts
is released in early spring 2007. sucks to be you.
¶