from the "things you never knew you wanted until now" files: glitch throw pillows!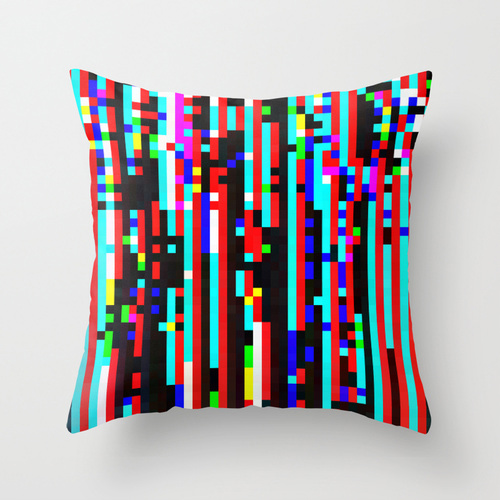 if you'd told me even a week ago that the most popular item In my society6 shop—more popular than t-shirts or laptop skins, even—would be throw pillows, i probably would've thought your prognosticator circuit was faulty. pillows aren't something i generally gave much thought to, let alone get excited about. and judging from the comments at this prostheticknowledge post, i'm far from alone there.
so i didn't know what to expect when i got the email that society6 now offered pillows, and was as surprised as anyone by how sharp these things look: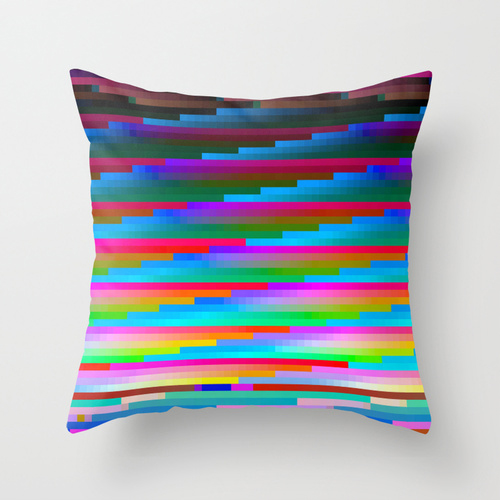 (yes, these are computer-generated preview images, but society6 does good work & i have faith these will look just as good in person.)
on reflection, it makes perfect sense: these pillows are as big as an art print, but much more functional & practical, plus you don't have to worry about stuff like framing. and because they're offered by society6, a create-on-demand site that can make them at scale, they're more affordable than limited-edition products like notendo's glitch scarves or philip stearns's glitch blankets.
and the timing couldn't be better: glitch is hotter than ever (it's even a core component of the latest hit disney movie, which i highly recommend)... and just in time for the holiday shopping season. the world is practically begging for a little piece of glitch pulled up from the matrix into their homes.
finally, it feels good to be getting some recognition for my big pixels series, which i feel is some of the best glitch work i've done, but which tends not to get as much attention on tumblr as my glitch gifs do. (of course, if you could put an animated gif on a pillow at that price, i'm sure that would sell even better.)¶