i just got off the phone a while ago with
sir.vixx
. while discussing arrangements for
my wedding show
, he mentioned something interesting that he'd noticed on
doormouse's myspace page
:
(click for larger, uncropped image)
on doormouse's myspace calendar, he has my wedding show listed as his
last US show
. ("purdy lounge dj sets" is a weekly recurring event that may very well end before october 17.) furthermore, his myspace "headline"—which is more of a profile quote or signature than a headline—now reads "And I'm Out".
all of this suggests that doormouse is retiring from music (or at least live performance). if true, it means that the october 17 doormouse show in indianapolis could be
his final live show ever!
of course, it's my wedding night—we're getting married earlier in the day—so this show was always going to be special for me. but if it's going to be doormouse's last show ever... wow.
here's the flier: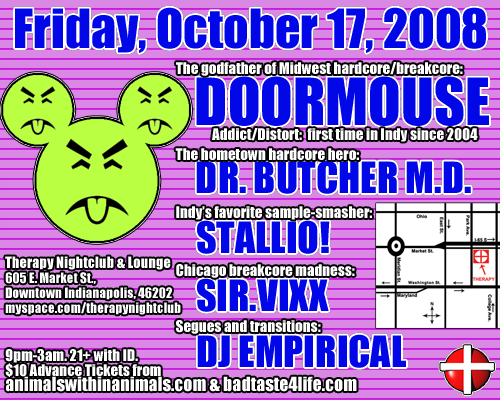 here are myspace links for the performers:
Doormouse
,
Dr. Butcher M.D.
,
Sir.Vixx
,
DJ Empirical
. if you want a taste of what my set will sound like, download my
mash smarter not harder
EP.
update:
doormouse has confirmed in an email that this is his "last show for the foreseeable future" and he is "taking a break."
¶